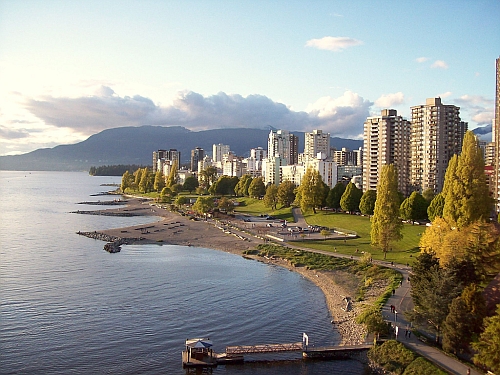 Offer details
StayVancouver hotels is once again offering American Express gift cards when you book a Vancouver hotel through their website.
They've been offering this promotion for years. It's legitimate, and a really great deal.
The offer is simple: You book a hotel through their website, and then receive an American Express gift card for $75 or $100 or $125 when you check-in (depending on which hotel you book).


This can effectively bring down the price of a 4* hotel to as low as $65/night, even after taxes and fees.
It also brings down the price of lower end hotels (Ramada, Howard Johnson, etc) to as low as $38/night.
There is no minimum night stay requirement.


How to find and book this deal
1. Go to the Stay Vancouver Amex promotional page
2. Select your check-in and check-out date (sometime between now and April 30, 2019)
3. On the search results page, you may want to click on 'Sort' and sort the results by price.
NOTE: The prices shown on the search result page do not include taxes and fees.


screenshot from the Stay Vancouver Amex promotional page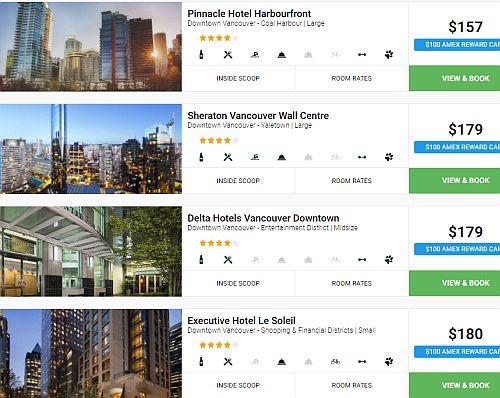 Offer details
- Bookings are pre-paid and non-cancellable
- You must pay with a Visa, Mastercard, or American Express
- Each person can make a maximum of three bookings under this offer
- You receive a $50, $75, $100, or $125 Amex pre-paid gift card for the first night of your stay, depending on the category of hotel (all values in CAD)
- For each subsequent night on the same booking you receive an additional $50 Amex pre-paid gift card
- The gift cards can be used however you'd like, either to cover the cost of the hotel stay, or anywhere else Amex pre-paid gift cards are accepted